---
SAFETY | EXCELLENCE | EQUITY Aligned with the agreed-to national goals for education as defined in the Alice Springs (Mparntwe) Education Declaration, TKIS is a small, affordable, private school for boys and girls from Prep to Grade 12. Offering a local day-school (for both primary and secondary) and boarding (for secondary school), Kooralbyn takes very seriously, its core commitment to Safety, Excellence and Equity. Within its friendly, village-like setting, the school takes pride in the high expectations of behaviour, dress and personal outcomes it holds for every one of its students as well as the professional achievements and passion of its staff. As mentioned above, the Kooralbyn Ethos is based around a commitment to safety, excellence and equity and embraces our core values of Tenacity, Kindness, Integrity and Self-Belief (TKIS).
Small school - Big hearts.
Small school - Big support.
Small school - Big outcomes.
The school delivers the P-10 ACARA Australian Curriculum as defined by the QCAA (culminating in Grade 12 students working towards their New QCE and ATAR results). VET qualifications are available to eligible students and our high school also offers an impressive range of internal (co-curricular) Mastery programs covering sports like golf, tennis and athletics as well as arts disciplines like Drama, Music, Dance, Art, Digital Design, Film & TV, etc...most of which articulate into either a vocational or QCAA Applied Senior subject in Grade 12. Our primary school has a strong focus on literacy and numeracy and building strong academic foundations that support our students all the way through to senior school.
Though we offer boarding for high school-aged children, most Kooralbyn students are local day students who reside in the Scenic Rim and lower Logan shire regions of the Gold Coast hinterlands. In many ways, the school aspires to reflect the time-tested approach of old English schools who believe that by maintaining the highest standards of dress, behaviour, mutual respect and work ethic, its students will develop positive habits that in turn evoke self-belief and success on whatever pathways their individual strengths and passions lead them.
The school is proud of its inclusive culture and makes a committment to parents/carers which we call Our Equity Pledge.
Our school's motto is: Absol Fiducia – Absolute Self Belief.
Our student pledge is: As a Kooralbyn student I pledge, to believe in myself and strive to be the best that I can be, because anything is possible, when I'm the best that I can be.
Our Four Core Values: TKIS : Tenacity - Kindness - Integrity - Self-Belief
For decades, our small school has been seeking to inspire young people to believe in themselves and embrace the four core values that will equip them for success and happiness well beyond their school years. These four qualities are integral to the identity of our school and the hundreds of proud graduates who have passed through our portals.
Our school's colours are maroon, grey and white which are worn with pride by every TKIS student past and present.
History: Following the traditions that nurtured two Young Australians of the Year and countless successful Kooralbyn graduates, the current school (opened in 2004) aspires to a similar international acclaim by helping today's TKIS students, to embrace that same passion for excellence and equity that the original TKIS was built on almost 50 years ago.
Translation for parents...?
---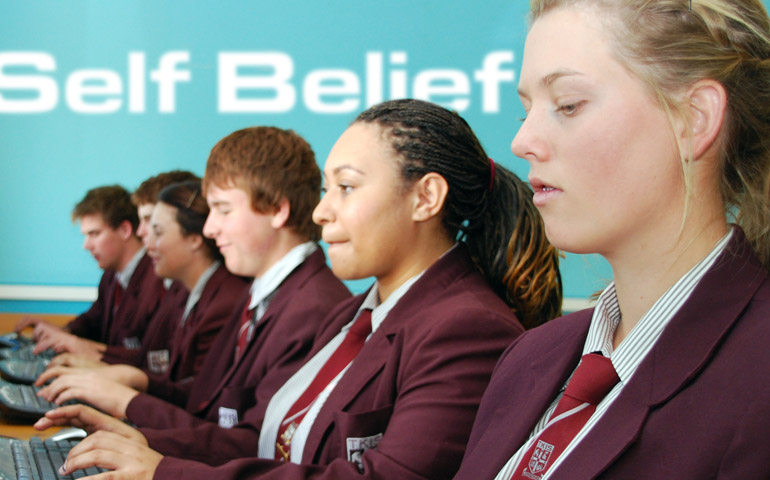 Small school --- Big dreams
A school with a foundational commitment to safety, excellence and equity takes a different approach to behaviour management and integrates things like anti-bullying policies directly into its culture. For example, the school believes that by doing something as simple as expecting all our students to act in a consistent, positive, respectful way (i.e. follow our school rules), little-by-little those small, uncomplicated positive actions eventually internalise into positive core beliefs and attitudes which motivate our students to 'be the best that they can be' which in turn promotes respect for one another, equity, a commitment to excellence, safety and other valued aspirations.
Huh? How is that supposed to work?
1. Why would a student or a teenager, want to follow a school's rules in the first place? :: Because they want to stay here. If they don't follow the rules, they'll receive more and more demerits (feedback about negative behaviour) and eventually be asked to leave the school. (The process is a lot more complex and supportive than that, but that's the gist of it.)
If they really want to stay at our school, the students will learn to follow our rules. If they don't really want to stay at Kooralbyn, then we might not be the right school for them, because we ARE going to be asking them to work and try harder than other schools, and we might not have the motivational influence over them to achieve that.
As to WHY a student would want to stay at Kooralbyn? Well, that's OUR job…to try to convince our students to want to stay here for the right reasons...for their benefit and more-employable future...for the Mastery programs and small-class-size support we offer...for the safety and cameraderie they discover here.
2. I want my children to be problem-solving, independent thinkers. How will following your school's rules achieve that? :: Well following rules might not directly foster a child's lateral thinking or creative abilities, but independent problem-solving and creative thinking are acquired skills that the school actively cultivates through its ACARA/QCA curriculum and internal Mastery programs. A young person is unlikely to create anything 'new' until they fully understand and appreciate a mastery of the 'old'. Following our school rules provides a safe and equitable environment from within which, we can support every students' journey of growth, development and discovery. It's a game we play: "Be as happy and successful as you can without breaking any rules." If our students can successfully play that game here, they'll be able to successfully play it in the outside world as well.
3. I'm just looking for a safe school environment for my child who has been bullied at other schools...why can't she just wear a little makeup for her self-esteem at your school? :: Good question. We believe that one of the best ways for a school to ensure safety, excellence and equity for all its students and staff, is to FIRST put good safety, equity, respect, work-ethic rules in place and THEN add simpler (more easily policed) rules (like uniform, makeup, etc.) that we can observe easily and be very strict about. Though it might be difficult to tell if a student is always complying with our important anti-bullying, respect-for-one-another rules, it is very easy to tell if they're comforming to our uniform and dress standards (especially if the rules are black and white...e.g. no makeup is permitted). A student who learns the good habit of being compliant with one set of rules, is also more likely to be compliant with the rest of our rules...including the more beneficial and harder-to-police ones, like those promoting safety, respect for one another and work ethic. So, in answer to your question: Yes, we DO have to be narky about the simple rules like makeup and hair and wearing hats, etc., so that we DON'T have to worry as much about the more important rules that help ensure safety, excellence and equity for our students.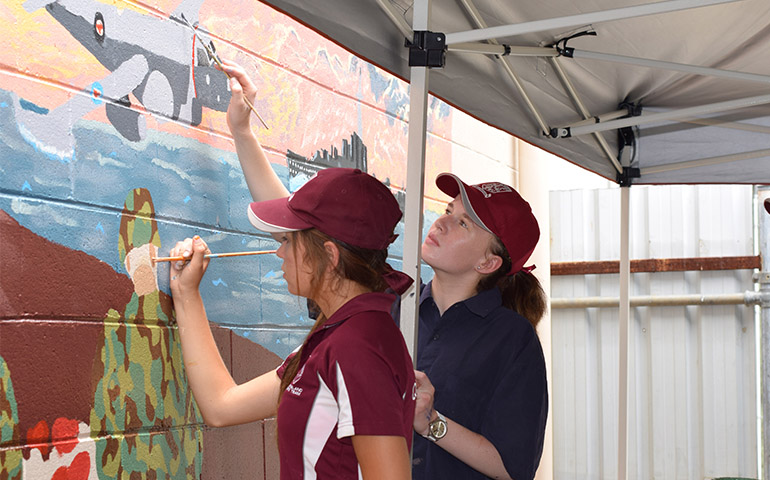 Small school --- Big dreams
Okay...so, how strict is Kooralbyn about its school rules?
Very. As inferred above, it's part of our process that we need to maintain high standards in dress, behaviour and work ethic, otherwise there's not the same sense of achievement or purpose. It's in accepting our rules and following them, that a student BECOMES a Kooralbian. There are some core rules relating to behaviour, respect for others, safety (we're a no-touching school which some find a little difficult to come to terms with) and though there's obviously more leniency shown in junior grades...
Kooralbyn students…
• ALWAYS have to wear their hats when they're outside of the classroom, [yep – we just lost half of the potential high school students right there, probably.]
• ALWAYS have to wear the correct uniform every day, including their full formal uniform (with the correct type of shoes, etc.,) as required.

• ALWAYS have to keep their hair in a neat, 'conservative' style (that shows both ears, both eyebrows and the back of their neck) and in a style that is conducive to properly wearing their school hat. Hair that touches the collar needs to be pinned back or (if longer) tied up (or back using a black or maroon ribbon). If you're in doubt about a hair style...then it probably means it's not conservative enough. :)

• ALWAYS have to keep their hair in its natural colour.

• ALWAYS have to be clean shaven.

• CAN NEVER wear ANY jewellery or markings other than (optionally) a single, simple stud in the lower lobe of each ear (for girls) and a normal wristwatch on their preferred wrist (boys and girls). That's right… no other piercings, bracelets, bangles, rings, necklaces, tattoos, markings, etc. are permitted.

• CAN NEVER wear any makeup of any kind. [Gasp…surely, you're joking?]

• ALWAYS have to hand in all personal phones, devices, electronics, headphones, etc., when arriving at school and collect them again when leaving school. (The school-issued laptop for high school students, is the only technology permitted on campus.) Parents and children should use the Student Counter to contact each other during school times.

• CAN NEVER bring anything other than school-issued bags and equipment to school. (Though primary school students are permitted to bring any standard bag to carry their clothes and gear on days when they have swimming lessons scheduled and standard school lunch boxes and pencil cases are also permitted.)

• ALWAYS have to stand when an adult enters their classroom.

• ALWAYS have to address staff as sir or miss or ma'am and students address each other ONLY by their first names.

• MUST NEVER purposely disrupt a class or classroom by calling out or being disrespectful to anyone.

• ALWAYS have to bring all equipment and resources to school as required each day.

• ALWAYS have to bring all completed homework to class as required and be otherwise fully prepared for classes each day.

• ALWAYS have to follow any lawful instruction issued to them by a teacher or authorised staff member.

If you're thinking that this would never work for your children…then no hard feelings...but perhaps Kooralbyn's not for you? We're not the school for everyone..and that's perfectly fine.
If you're still reading though…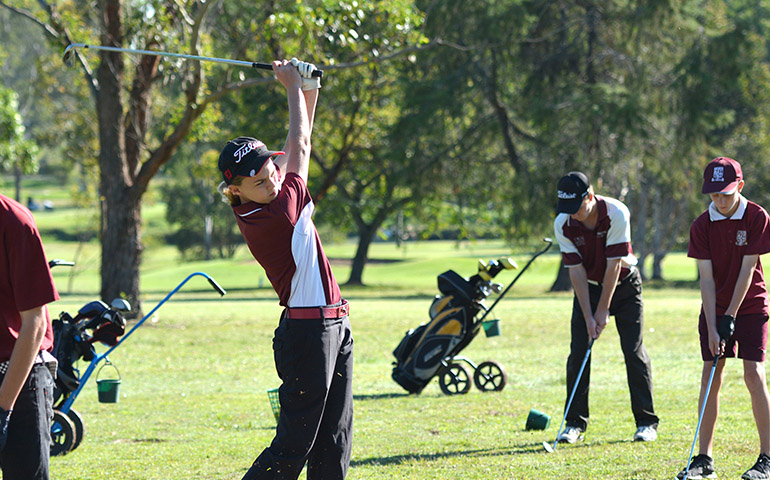 Small school --- Big dreams
WHY are the rules so strict? Wouldn't the school be a lot more popular (attract and retain a lot more students) if its rules weren't so restrictive or it weren't so strict about its rules?
Well for a start, never has there been any suggestion that one of the school's objectives is to be a lot more popular. We're a small school by design. Our model is simple: If we attract and retain good students who behave well and demonstrate their desire to learn, we will attract and retain good teachers whose priority is more about the teaching than about the money. This allows the school to keep its operational costs down and its staff numbers up, which creates a kind of perfect storm or upward spiral…good students > good staff > good, affordable results...and the cycle continues.
An important part of the school's Ethos suggests that by design, its rules must be a challenge that require a real commitment from each student. Every rule has a purpose…either something to do with safety or equity, or working towards excellence, or to enhance the school's and therefore the students' reputation or to improve their future employability, or somehow integrated into our core values of Tenacity, Kindness, Integrity and Self-belief, etc…but even if there wasn't an actual positive purpose to each rule, the premise is that there is actually something intrinsically beneficial in a young person learning to accept a well-intentioned authority and buying into that authority's rules and structure. It helps create a sense of belonging, achievement, pride and self-worth which in turn promotes a number of positive habits that stay with the student long after they've graduated.

So according to the school's ethos, the rules HAVE to be challenging. It's simple psychology. If the rules are easy to follow, then there's no sense of achievement or rite of passage…no real accomplishment felt by those who successfully follow them. Alternatively, a student who is prepared to commit to something difficult – something that demands a genuine commitment and effort – is far more likely to then follow other (perhaps more beneficial) rules like doing homework conscientiously and treating one another with respect.

What evidence can we cite to suggest that implementing challenging school rules has any impact at all on a student's learning or 'broader' outcomes?

Over the last couple of decades, there has been a direct correlation between those who achieve success within Kooralbyn's Honours System (i.e. the students who work hard to follow the school's rules) and those who perform well in relation to the academic, artistic, sporting, social-emotional and moral-ethical objectives of the school (i.e. the students who also appear to work hard and achieve success in other areas of endeavour.)
Similarly, there is also a statistical correlation regarding students who perform poorly in rule-following (i.e. students who at Kooralbyn collect many demerits within the school's Honours System) also tending to perform poorly in other areas of endeavour.
Anecdotally there have been many examples of students who 'went off the rails' so to speak and found as their dress, behaviour and work ethic declined, so too, did their various learning outcomes. Then as the student rebuilds those dress, behaviour and work ethic standards, their learning outcomes improve as well.
Our Honours System is very similar to processes used by successful schools in the UK for hundreds of years.

Finally...It may seem strange that when talking about the school's Ethos, we seem to be focusing so much on rules and the high expectations the school places on dress, behaviour and work ethic, but those high expectations and the processes we use to help our students meet them...are integral to the school's safety-excellence-equity mindset. It's all about 'safety'. The school's rules and structure allow us to provide the supportive culture and the safe environment from which we can deliver the core values of Tenacity, Kindness, Integrity and Self-Belief (TKIS) that our Ethos promises.