All the world's a stage...
Drama Mastery has been one of the school's most popular Masteries since 2008. Students from Grades 7 to 12 share their amazing journey of exploration and discovery as they build their own confidence and allow the dramatic arts to help define themselves as young men and women.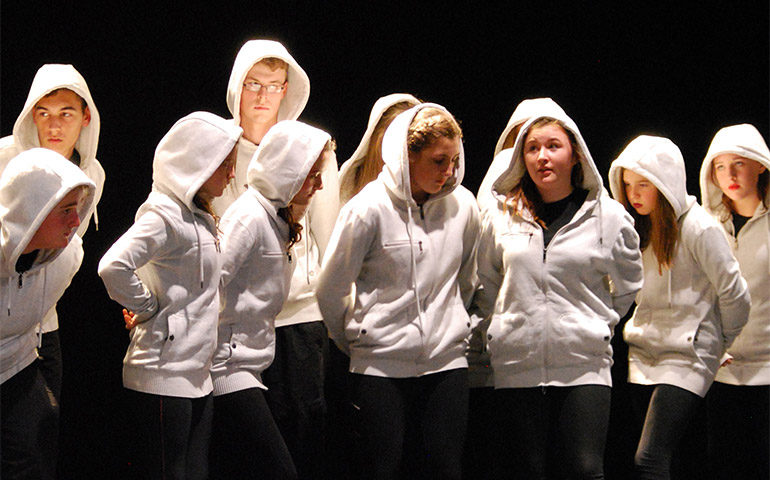 Who should join this Mastery?
Students with a passion and/or talent for the performing arts. Auditions are held regularly and students of this mastery must have enthusiasm and willingness to try new things.
What career paths exist?
Many… acting, directing, teaching, performance, media, writing, etc.
What kinds of activities are students of this mastery involved in?
The skills of performance as well as the mechanical aspects of theatre, e.g. scriptwriting, theatre tech, costume design, makeup, stage design.
What formal qualifications can be earned from this mastery?
Potential to earn a Certificate in theatre industries. Students in Grades 10-12 can earn credits towards the ATAR Applied Subject of Arts in Practice. Full completion and successful submission of all course work in Grade 12 would achieve full credit in that subject. Students are also able to compete in an organised Scene project with the Queensland Theatre company.
What are the equipment or uniform requirements for this mastery?
Theatre blacks: black pants and shirt for boys; black tights and shirt for girls. Students in this mastery normally wear their Sports Uniform over their theatre blacks on Fridays unless otherwise instructed.
What is the maximum number of students in this mastery in each grade?
Up to 18 students across Grades 7 to 12 are accepted into this mastery each year. Auditions are held in the first or second week of each term.